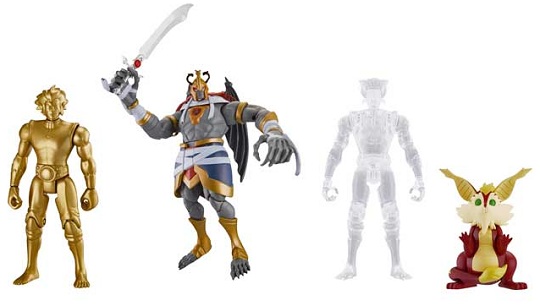 Available only at Argos the Thundercats Four Pack is less than half price at the moment. Argos has reduced it from £29.99 to £12.99, excellent! You can get the kids their favourite Thundercat characters Lion-O, Tygra, Mumm-Ra and Snarf all in one pack at a great price.
I loved the Thundercats as a kid (obsessed may be a better word), for a while everything I played and made involved them, Cheetara was just so cool!  I'm secretly so happy to see that they're still going strong and that my kids will have the opportunity to enjoy them too. I actually had Snarf and Cheetara figurines and I wish I'd kept them for my children to have today. Not to worry, they're still available and probably relatively cheaper than they were then. Well they are with Argos anyway.
The pack of four Thundercats figurines from Argos includes the gold Lion-O, clear Tygra, Mumm-Ra and Snarf figures. It's exclusive to Argos and is suitable for children over the age of four.
Thanks to beechwoodsmiths at HUKD!