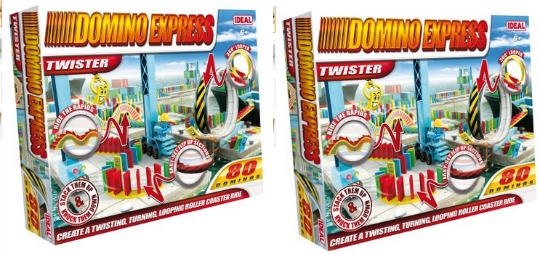 This Domino Express Twister Roller Coaster is just £6.49 at Asda Direct. The last time it was this price at Amazon, it sold out very quick, so don't hang about. It's in the adverts on the likes of Cartoon Network and other children's channels so that means it'll be on many Christmas lists. If you were to get it from Smyths, it would cost you £12.49, the same at Argos and Tesco is £12.
The Domino Express Twister Roller Coaster has eighty dominoes with it. They form a big run, including a full 360 degrees loop and is apparently easy to set up.
On the Asda Direct site, it has one review and is rated four stars. My friend's daughter has this and she loves it. It gets brought out everytime we go to play, and that's what you want, a toy that will be played with.
Sometimes it's the classic games/toys that please children the most. There is something very satisfying about setting up dominoes and watching them topple and fall.
You can click and collect Domino Express Twister Roller Coaster from your local Asda for FREE or pay £2.95 for home delivery.
Thanks to mathew1971 @ HUKD