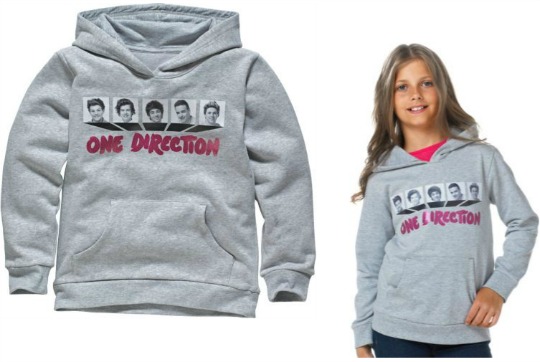 Kids still into One Direction? Here's an affordable gift to pop in their stocking! The One Direction Grey Hoody is an absolute bargain for just £6.66. You'd struggle to get a plain one for that, let's face it. It was £16.99, but more recently £8.49. This is a great saving and would make a great present for a directioner.
Did you manage to grab those gold dust 1D tickets? This would be a nice addition to them, plus they could wear it when they go and see them. You on the other hand may want some ear protectors.
This One Direction Hoody is a very wearable grey colour and has all five of the boys featured on the front, along with their logo. IT is available in sizes 6-7 through to 12-13 years old.
It's made from 70% cotton and 30% polyester which means it is fine to machine wash and should be okay to tumble dry on a cool setting.
You can reserve and collect your One Direction Hoody from your local Argos for FREE or pay £3.95 to have it delivered, if you are avoiding the shops like a plague!