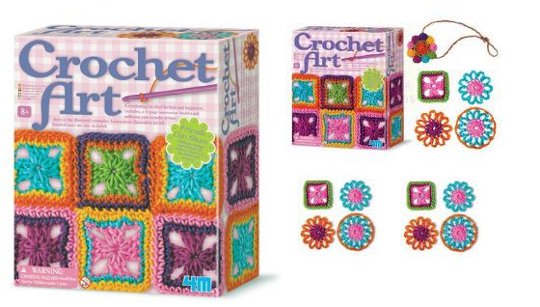 There's a Great Gizmos Crochet Art set on offer at Amazon for £5.29, instead of £9.99.
I say 'rediscover' but I've never actually done any crocheting, despite home economy classes where we did all sorts of things I don't think I've ever used – like the thing where you tie sting in knots to decorate pillows? Can't even remember what it's called!
Anyway, my lack of sewing ability aside, the arts of knitting, sewing and crocheting seem to have found a revival recently, and this Crochet Art kit will be a good way of introducing it to a willing participant. The kit gives you an achievable project – you can crochet a coaster, handbag, place mat or belt – and includes the all important 14-page instruction book. It has lots of brightly coloured wool and is suitable for children over 8 years of age.
The reviews are positive, with one lady saying it gave her 9 year old niece sufficient skills to move on to adult patterns and another saying that it is an excellent buy for a beginner or child. Criticism involved the hook, with reviewers saying that it was bulky and clumsy to use, but nothing that couldn't be worked around.
It would probably make a lovely stocking filler, and it is a good price!
Thanks to hashman at HUKD