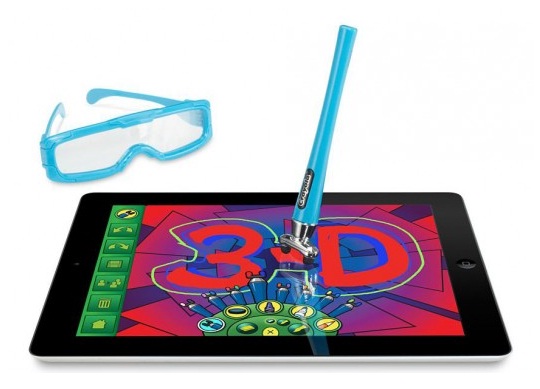 Even with the best intentions I bet you didn't manage to keep the kids off your iPad? Or, you did by buying them one of their own.
There's lots of accessories out there that aim to help you and younger folks make the most of this technology. Griffin is a company that makes quite a few useful items for iPads, and for iPods, iPhones and so forth. One of these is the Crayola DigitTools Ultra Pack.
We got one in for review, and sadly I have had to give it to a friend, who tested it for me as (sob) I don't have an iPad. Incidentally, f anyone out there got one as an unwanted Christmas present, I am more than happy to help you out and take it off your hands.
Read on to find out how it did.
Griffin Crayola DigiTools Ultra Pack
There's actually a number of different Crayola products produced by Griffin. With this one you get three apps and seven tools. The Griffin Crayola DigiTools Ultra Pack is priced at £39.95 at the Apple Store.
The tools you et in the Ultra Pack are: the Digital 3-D Tool and 3-D Glasses; Digital Crayon and Digital Colour Changer; and the Digital Airbrush and Digital Rainbow Roller.
First off we tried the basic colouring in app. This works with the tool that looks like a Crayola crayon, and the one that looks like a potato peeler. One thing I really liked about all these tools are the familiar Crayola styling. Our three testers are aged 8, 7 and 5. The five year old wasn't so impressed and got a bit huffy as purple was for girls (a new one on me!) and he didn't want it, he wanted to draw in other colours. It took a bit to explain that it wasn't a 'real' crayon.
It took them all about a nanosecond to work out how to operate these, and were quickly swiping across each other's drawings and creating havoc. All in good fun.
You can choose an image from a selection, and when the stamper (it looks like a standard ink stamp except there's nothing engraved in the bottom) is pressed on the screen it produces that image. From a parental point of view, you might want to hide this one from younger, heavier handed children who don't quite get that it isn't a real ink stamp, and that thumping it as hard as possible on the iPad screen won't make the picture come out any better.
Otherwise all the tools we looked at were fairly easy on the screen, and it would be difficult to imagine how they might be used to damage it in any way. Unless your child is particularly destructive, and particularly inventive. The stamper being the exception of course (and currently located way at the back of a kitchen drawer).
Next we had a go with the Airbrush and Rainbow Roller. The stamper can be used in this app too, according to the info (but we didn't try it out). The tools work pretty much as you'd expect. The Airbrush was a lot like using a spray can, and can be fun to produce some graffiti type art. The Rainbow Roller wasn't quite so interesting, or at least it wasn't played with as much. Like the colour changer it changes colours as you swipe it across, this time in a sort of 'rainbow' of three colours.
Finally we saved what is the most exciting of the apps for last. Well, exciting for the older child perhaps. Our eight year old tester is, according to their mum, still pretty engrossed in using this tool. There's a stylus, and a pair of glasses. It uses a fairly simple 3D technology, based on drawing two lines, but it is very effective and I was impressed at how much fun it was to use. Out of everything in the pack, I thought this was the app that really made it special.
Each of the three apps are available to buy on their own too, so it might be worth looking into that as well.
Also, when buying, I'd also factor into the cost the price of a screen protector, to really make sure there are no scratches on the screen.
Overall I'm impressed with how much you get in the pack, and how much fun it is. However, it still seems fairly pricey at nearly forty quid.
Pros: lots of tools, three apps, really creative and the 3D effects are excellent
Cons: still a bit pricey considering for the colouring and airbrushing you can get free or cheaper apps. Just not with quite so many features.
Overall verdict: 9/10. Only real negative I could find in a short time of use was the price.