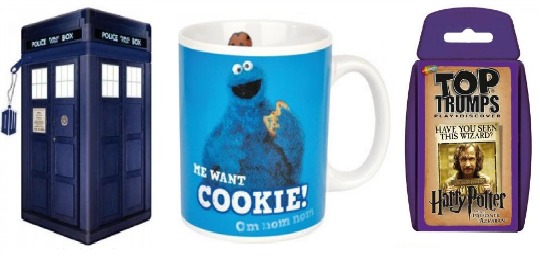 The Applause Store sell TV, Film and music merchandise, and right now they have reduced some of their sale items by massive amounts in an effort to clear it, and prices start from just 49p! Some are as much as 80% off!
For Doctor Who fans there are pencil cases reduced from £4.99 to  99p, a 3D framed tardis image down from £11.99 to £2.99, and some really cool lunch tins. Fans of superheroes are in luck with lots of Spiderman, Batman, Wonder Woman and Marvel merchandise at really big reductions. There are also Muppets, Sesame Street, Mr Men,  and things for older viewers like The Big Bang Theory and Breaking Bad - it's not just kids stuff.
From 99p there are badge sets, key rings, bracelets and stationery, mugs are from £1.99, and then there are t-shirts, jewellery and loads more.
Fans of One Direction and Union J will find plenty of bargains in the clearance as well, though I think maybe 49p for a box of One Direction Tissues might still be pushing their luck. Tissues, really?
Delivery charges are calculated by parcel weight and start at £2.49.