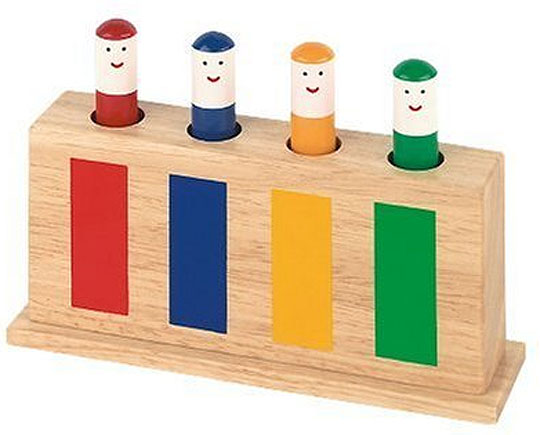 If you're after a toy that's classic and simple, timeless and doesn't require batteries then this classic wooden pop-up toy is for you!
It features four different coloured pop-up characters who will have small babies giggling away like loons when the suddenly POP UP again, having been pushed down into their little wooden box home.
Each little wooden character has a matching coloured slot, although they don't have to go in the right one - which is rather nice as it lends itself to learning colours and matching the right character to the right slot, later on when a little older.
You could also this classic wooden pop-up toy to introduce the concept of numbers at an early age - counting to four is no mean feat when you're little!
The reviews are excellent, here are a couple:
This sweet little wooden box really captivated the babies who were playing with it. Their little fingers eagerly stuffed the brightly coloured cylindrical peg men back into their holes, they pressed them and chuckled as they popped back out.

This charming toy enhances fine motor skills and encourages the child to sort the men into their colour co-ordinated holes, making associations whilst they witness the cause and effect actions of their own tiny hands. Inexpensive, lovely gift but needs adult supervision as the babies loved sucking the wooden guys.

Bought this for my one year old, he found it hilarious to bob the little heads up and down. After a few months he was pushing the heads all the way down and firing the pegs across the room! I really think this toy helped him with his hand-eye coordination, he spent a lot of time perfecting the art of peg-firing. Loved it.
See! Babies and young children ADORE this sort of toy, which is why I'm telling you about it even though there's only a £1.50 discount to be had.  This will be one of the best £6.49s you'll ever spend, I guarantee it.
Thanks to username at HUKD