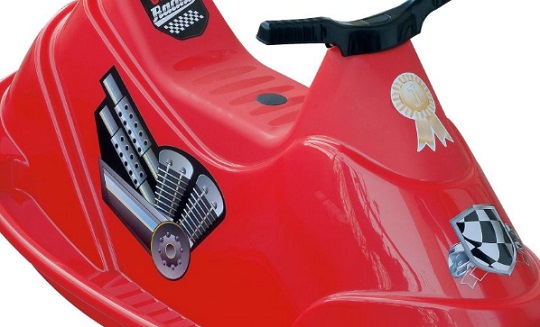 This Character Rocker is being sold by Tesco Direct for £4.48. That's a massive saving of, oh, 50p on the original price of £4.98. I know, it isn't a big price drop, the thing is, this rocker is so cheap anyway I would have posted it here. These are a great little toy to have about for energetic toddlers, and they last well. This one has a lot of very positive reviews too. Collect in-store so you don't have to pay delivery.
This Marian Plast character rocker is ideal for entertaining your little one. Once on the seat, they can grab hold of the motorbike style handles and rock  back and forth. The red plastic rocker comes in the form of a motorcycle, and  includes motorbike decals. It arrives fully assembled. Age range 2  years and upwards. Maximum user weigh is 30kg.
Problems with the rocker seem to mainly be around the stickers. Be prepared for these to peel off pretty much straight away. Some people are not happy with the way it is hollow, but most find this to be acceptable, and as it is lightweight, makes a fun addition to throw out in the garden.
This is fairly typical of the reviews: "A useful extra piece for children out in the  garden. Lightweight. Does what you'd expect a rocker to do - rock. Just note  that you can end up with any colour/stickers. We got a cow themed one."
Thanks to wishihadadonkey at HUKD!