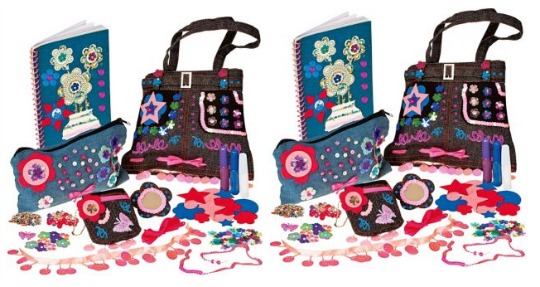 We blogged this one the other day when it was £3.99 and Argos have just shaved another £1 off the price.
Here's what Nada had to say about it a few days ago :
I won't lie to you, when I saw this Chad Valley Dazzling Denim Set, my inner fashion designer sprung to life. Nothing pleases me more than mega girly things. Living in a house that is full of males, I often wonder what it would have been like to have a daughter.
For £2.99, Argos are selling this craft set. I personally think this is a great buy as it includes, a denim bag, a purse, notebook, mirror and even a pencil case. On top of that, you get all the craft materials to decorate your fashion items. Glue, gems, beads, butterflies and so on.
This is a set that seems to have plenty in it to keep your child occupied, on the rainy days we seem to be having this summer. I reckon there is enough to keep them going for at least an hour.
I think it would be lovely to take a pencil case to school that you had personalised yourself. It's nice to encourage the creative side in your children. Although, not sure I would get away with doing this set in my house, with the abundance of testosterone.
Argos will deliver this to your home £3.95 or reserve one and pay in store.