Celebaby: Material Girl Mk II and Jackson Jollies
In today's Celebaby we get a sneak preview at the new fashion range designed by Madonna and her daughter, Lourdes, and at long last see the Jackson children enjoying some freedom and having FUN!
Material Girl Mk II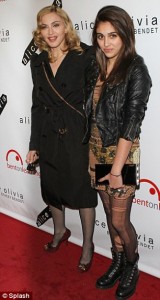 If someone would like to tell me exactly WHEN Lourdes grew up that would be great, because the last time I looked she was about five!
Now, at the tender age of just 13,  she's about to launch a new clothing range for teenage girls in collaboration with her mega star mother.
Luckily for us mother's with teenage daughters can breath a sigh of relief as it's currently only available at Macys (GREAT shop!) so we won't have to run the gauntlet of teenage tantrums when we say 'NO!'
According to the Daily Mail, the style, "combines vintage Madonna with 13-year-old Lourdes' fresh style in a line that includes skinny jeans, strapless mini-dresses and naturally - a corset or two."
Can't say I'd let my 14 year old daughter out wearing a corset or lace gloves, but then I was never into that when Madonna was wearing it either.
Apparently Madonna wishes her daughter would dress more conservatively....hmmmm, the words pot, kettle and black spring to mind here, but she did have this to say about their new clothing range...

"I think this line is absolutely an extension of her taste. We like to combine a plaid or a flannel with a lace, or leather with lace or rhinestones. So we mix and match textures and fabrics and elements that are both masculine and feminine."
Nice...I still wouldn't buy it, even if I didn't have to fly over to Macy's for the privilege!
Jackson Jollies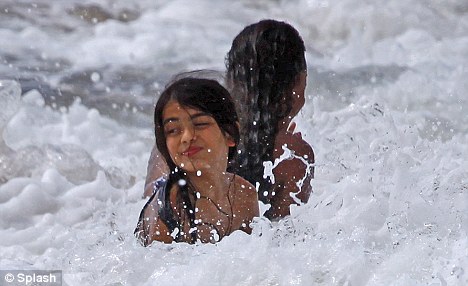 Maybe it's just me but...WHEN did Michael Jackson's kids grow up??!!
It's a year since Michael Jackson died and if ever there was an ultimate Celebaby family then the Jacksons would be it surely.

I can't even begin to imagine what it must be like to be the child of someone SO famous, notorious and have courted such controversy.
The enduring images I have are the infamous 'baby dangling over the balcony' one and the kids with their faces covered by scarves.

I'm more than happy to replace those mental pictures with these images of the Jackson children having a great time on a beach in Hawaii - this is what childhoods are all about, playing and having fun!
Paris (12), Prince Michael (13) and Blanket (8) were taken out and allowed to run free by their grandmother Katherine, who has revealed that they have no friends and will be going to school for the first time in September having been previously educated at home.
You can't help but feel for these kids and hopefully they'll be allowed to develop with some sort of normality- well as much as they can ever have bearing in mind their heritage.