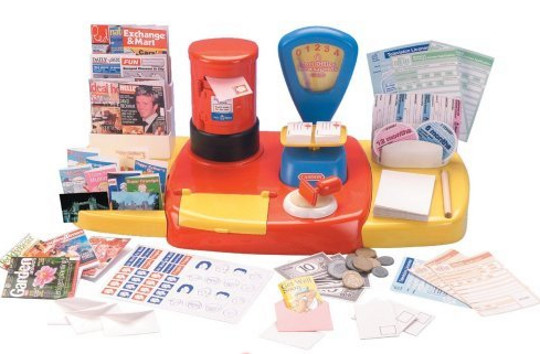 The Casdon Post Office is only £5 over at Amazon just now. This is the best price I have EVER seen this for. The very same toy would set you back £15 at Debenhams and £9.99 at Argos. It is an Add-on item so you need to include it in a order totalling £20 or more, but I say order a couple. Check out the other Add-on bargains from Amazon, here*. You can really start tucking the presents away.
Playing shops, teachers and so on is fun but none of them compare to running your own Post Office. I had this set as a child and I loved it. It's much more updated now, and is jam-packed full of role play goodies for your little one.
Here's what you get in the Casdon Post Office Set: Weighing Scales, a Post Box,  aCash Drawer, a Stamper (the best bit!) , Coins And Notes, Magazines, Newspapers, Stamps, Envelopes, some Post Cards, Vehicle Licences And some Forms.
This toy is suitable for children aged three years old and above. It's a really handy size which means it won't clutter up small bedrooms and can easily be taken to Granny's house or anywhere else.