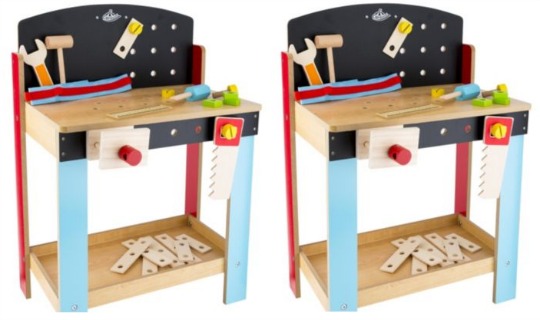 Yay! A wooden toy bargain! Click the pic above or link below and you can bag a Carousel Wooden Work Bench for just £20. This was previously £50, then reduced to £25 and is now £20. What's even better is that it is included in Clubcard Boost so potentially you can get this for even cheaper, if you have the Clubcard points available.
Luschka blogged about the Carousel Wooden Market Stall last night, and this wooden workbench is from the same range. If you have them room I'd be inclined to buy the two, because as far as wooden role play toys go, you'd struggle to find them for less. I am certainly sold on the price of this, £20 for such a lovely BIG toy.
You get the work bench of course and a screwdriver, hammer, ruler, saw, spanner, screws, nuts and bolts. Plus a nifty little tool belt for your little one to wear. This is made from FSC certified wood.
You can click and collect the Carousel Wooden Work Bench for FREE from your local Tesco store, or pay just £3 to have it delivered.