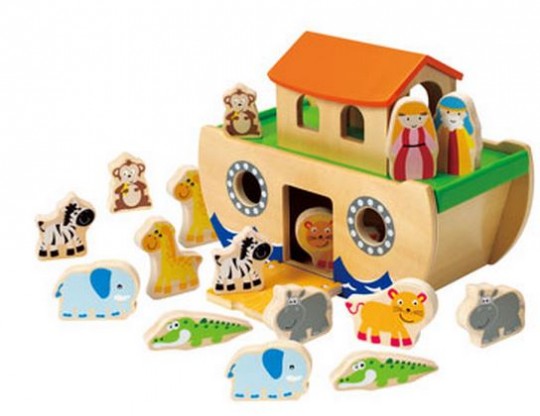 Kiddicare is selling the Buzzing Brains Noah's Ark wooden play set for £7.49. The next best price I can see online is a different set completely for £14.44. Even with the £4.95 delivery, this is the best offer at the moment.
This is a beautiful wooden toy that introduces the story of Noah and his ark to young children, and if not, is just a big boat with people and animals. Either way it is great for imaginative play, and since there are two of every animal, it's great for sharing too. 
A bonus of this set, - which not all have, I know because ours doesn't - is that all the animals fit inside the ark for storage.
Included are 2 people, 6 pairs of animals  - 2 lions, 2 zebras, 2 hippos, 2 giraffes, 2 elephants, 2 crocodiles - and an ark with a removable top to encourage imaginative play and story telling.
Thanks to makaemda at HUKD