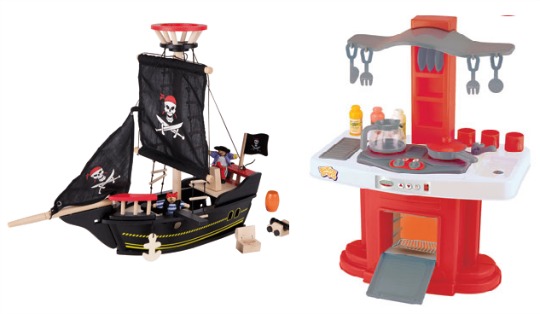 You just can't go wrong with the Buzzing Brain range at Kiddicare! Look at it, lots of bright, colourful, fun toys for little ones and they start at just 60p. You'd be hard pushed to find some of the wooden toys on Kiddicare for less money. How they do it I just don't know but we are certainly not going to complain. Fill your boots, before things go out of stock.
Such lovely toys, can you tell I am sold! Don't faint but £15.99 for you can get this absolutely gorgeous Buzzing Brains Butterfly Cottage*! Look at it, it's worth every penny. It's not some cheapo plastic toy either, it's made from wood. You would think at this price it would come as  hallow shell, nope, it's full of furniture.
Here's another two items that I think are just unbelievable value! The Dinosaur Park* from £49.99 to just £19.99. It too is wooden and comes with everything you need for a Jurrasic Park type toy. My First Farm Playset* is just adorable for a little one, and because it's wooden it'll last, meaning it can be passed among siblings.
The Wooden Pirate Ship* is only £13.99 reduced from £34.99. A must for any little Pirate fan.
Delivery is £2.99 or FREE if you spend £29.99 or above.