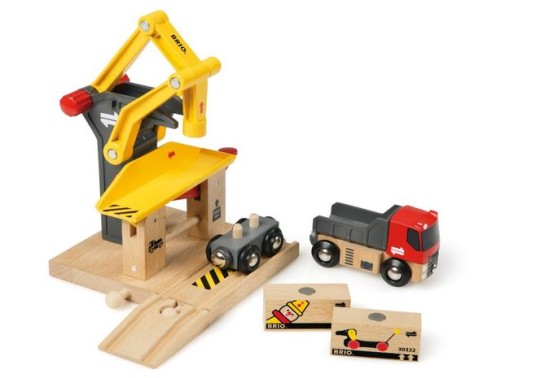 Amazon have price matched the BRIO 33280 Freight Goods Station with Tesco for £12.90. The difference is that Tesco has a £3 delivery fee and Amazon has none, so even if you're only saving on the Tesco delivery fee, it's a saving. Elsewhere online yu can buy the Freight Goods Station for over £20 delivered, and this is the best price it's been on Amazon thus far.
The BRIO freight goods station offers an exciting loading action for truck and train. At the press of a button the chute flips up dropping the two container loads down onto road level. You can add this to an existing BRIO road and rail set to extend the play, and like all other BRIO toys in my experience, these are said to be durable, made to BRIO's high standards.
There's also a magnetic crane which loads upper and lower levels. The set comes complete with a truck, wagon, load and ramp track and makes a great addition to your Brio wooden railway set.
BRIO trains are - should be - compatible with Tesco, Sainsboury's, Ikea, and ELC wooden tracks and their trains as well.