Bratz Crystalicious Deluxe Doll Review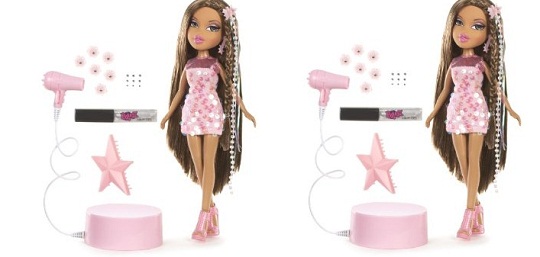 My daughter is smack bang in the middle of the Bratz target market. And, as if by magic, the pile of used up, footless (yes, they have no feet), and naked Bratz dolls that were given to her by an older relative, have become the ultimate things to play with. Me, I am a little freaked by the fact that they have no feet. My child, on the other hand, adores them.
So I got the Bratz Crystalicious Deluxe doll in for review as this is one of the cool products on the lists this Christmas and now seemed like the time to get my mini reviewer in on the act. The moment she saw this Crystalicious Bratz doll my daughter nearly fell over with delight. The hair is the secret here. This doll has the longest hair ever.
The set also comes with glitter hair gel (nearly finished after only a week), hair clips, sparkly flower and jewel stickers and a hair dryer. What I liked about the Bratz doll at first was the quick packaging. It's still a nightmare, don't get me wrong, but it is easier than most. Also, the range of accessories that come with the Crystalicious Bratz at £19.99 is far more than most brands, another plus in value for money.
The doll itself is very robust and has already been run over by the Bratz car (£2 at a car boot sale) without showing any damage. Her hair is a total disaster though. It knotted up in seconds and takes a while to detangle. I thought this would be a negative but my daughter loves this as it gives her an excuse to spend hours brushing it and rearranging the included crystal bead strand that you can clip into the hair for added oomph. The strand, however, broke within an hour which upset her enormously and now lies about messing up the place.
The hairdryer needs three AAA batteries, not included, and blows real air. That is such a cute feature and gets a big thumbs up, it also has a platform that lights up for our Bratz to stand on. The Bratz Crystalicious range * is lovely and would make a stunning Christmas gift for a little girl. I give it a steady 7/10 with points removed for the fragility of the hair accessories,but points added for attention to detail, number of accessories and extras.