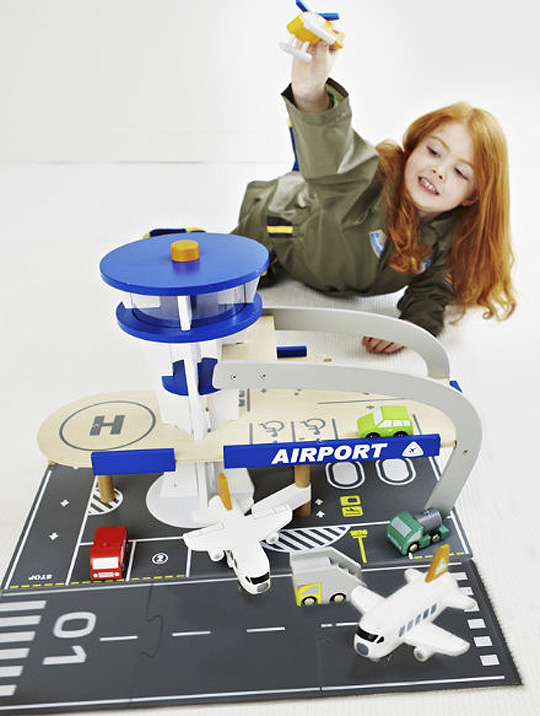 Mothercare are selling this Big City Wooden Airport for half price - £20 instead of £40. I spend far too much of my time in airports, but this particular one looks pretty cool.
One more thing, before I tell you all about it - if you haven't used code VXXN before, then you'll be able to use it to bring the price down to £16. If you've already used it for something else then it won't work as I'm led to believe it's a use-one-time-only code - although, that said, there's nothing lost by giving it a go!
If you're a regular PlayPennies reader you'll be very well aware that I am a WTF - that's Wooden Toy Fan, I don't know what you were thinking it stood for! - and this Big City Wooden Airport really pushes my wooden toy buttons.
Do you know what else I really like?  The fact that the powers that be, who were in charge of the photo shoot for this Big City Wooden Airport, decided that a girl should be shown playing with it - hurrah for flying in the face of gender stereotypes! (HA! 'Flying in the face of!' - get it? Do you see what I did there? Flying - airports - airplanes...enough? Okay, I'll stop).
The Big City Wooden Airport  is nice and simple, it doesn't look tacky, doesn't require any batteries and doesn't have any flashing lights; there are no bells, no whistles and no beeping sounds; perfect! It features an air traffic control tower, helicopter landing pad, car park with marked parking bays and, of course, a runway.
It also comes with a four wooden vehicles, a helicopter and two planes - everything you need to create and run a busy and bustling airport.
The Big City Wooden Airport is suitable for youngsters aged three years and over and you can arrange to collect it, for free, from your local Mothercare store, OR you can have them deliver it to you for an additional £2.95.
Thanks to xposure at HUKD