Ben 10 Inline Scooter and Lodestar Ultimate Alien Action Figure Review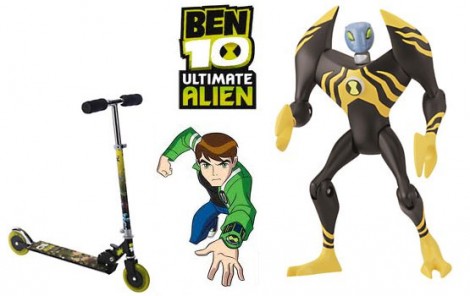 I was a little late to the Ben 10 party it has to be said. I kept seeing Ben 10 stuff EVERYWHERE - Ben 10 clothes, Ben 10 figures, Ben 10 bubble bath, Ben 10 towels, Ben 10 bikes and Ben 10 scooters.
At the time, my youngest was still into Thomas and Bob the Builder so I didn't pay a great deal of attention to whatever, or whoever, this Ben 10 was; then I found a deal for something Ben 10 and figured I should find out what I was going to be talking about.
My youngest caught Ben 10 fever shortly after that, and that's really the only way to describe the hoo-hah surrounding the boy (now teenage) alien hunter, and my life and bank balance haven't been the same since.
Woolworths very kindly sent us a Ben 10 Inline Scooter and Lodestar action figure to review.
My youngest already has both of these things, Tamsin's daughter couldn't care less about Ben 10, Lynley's son is also Ben 10'd up to the rafters and Luschka and Emma both have girls under one, so we shipped the scooter and Lodestar off to PlayPennies mum, Louise.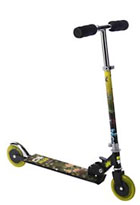 "My eight-year0ld daughter, Ellie, was SO excited when the Ben 10 inline scooter arrived," Louise told us, clearly Ben 10 isn't just for boys!
"Playing with it last Saturday made her a very happy little girl indeed," Louise continued, "It had been wet and windy all week and we were waiting for a sunny weekend."
We thoroughly admired Louise's family's optimism about the weather, especially as February can be a bit tricksy with warm days one minute and snow-filled ones the next, but they were duly rewarded and Saturday morning dawned bright.
"I really wanted Ellie to try out the scooter so with the sun shining, and my husband in the shower, I seized the day and opened the box," Louise reported, "I removed all the packaging and hoped to have the Ben 10 inline scooter assembled by the time he was out, so he could take the girls to the park."
Louise was surprised, and rather thrilled, that it only took her a few minutes to put the Ben 10 inline scooter together and be able to call Ellie over to have a go on it.
"My daughter was delighted to see it assembled so quickly and I was SO pleased because I was expecting it to take much longer than a few minutes, it really couldn't have been easier."

Louise's last experience in assembling Ellie's first scooter was somewhat different by all accounts, so Louise was very pleased to not to have gone through that drama again. considering the last experience with Ellie's first scooter.
So what was it like to scoot on? A scooter's no fun if it doesnt' scoot very well, even if it is a Ben 10 one!
"When my husband and two daughters came back from the park, I asked Ellie what the Ben 10 inline scooter was like.  She gave me a thumbs-up and said, "It was much easier to balance on this one than my old one, mummy!""
Well that's excellent news for Ben 10 fans who might have been sitting on the fence wondering whether or not to buy one of these Ben 10 inline scooters - it has a printed footboard and the handle has a quick-fold mechanism, making it easy to fold up and put in the boot of the car if you want to scoot around somewhere a little further away from home.
We also sent Louise a Ben 10 Ultimate Alien Lodestar action figure.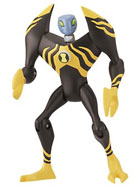 Lodestar is a Ben 10 Ultimate Alien, he's a Biosovortian and has quite a few special abilities! He has magnetic powers, super strength, can generate shields and levitate; not bad, I could do with having some special powers!
His hands and feet are like crab claws and he has a floating metal head that hovers between his big, very pointy shoulders.
"There isn't really much I can say about Lodestar," Louise confessed, "what's to tell? He's black and yellow, and his arms and legs are poseable as he has joints at his shoulders, elbows, hips and knees."
Lodestar and the other Ben 10 Ultimate Alien action figures retail for £6.00 each.
"Ellie enjoyed playing with him and he got to have a few rides on the scooter too.  According to Ellie, Lodestar thinks the scooter is brilliant."
And finally...
The Ben 10 inline scooter retails for £25, although Woolies are currently selling them for £23.
Louise felt both the scooter and Lodestar Ultimate Alien action figure were definitely good value for money and she'd particularly recommend the scooter to anyone who was thinking about getting one.