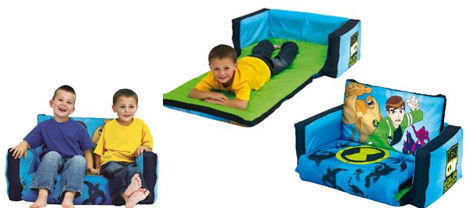 *HAROOOGA! ALERT - ALERT!* Amazon have a price reduction on this Ben 10 Alien Force flip out sofa.
There aren't many of these Ben 10 Alien Force flip out sofas left, BUT don't despair!
Those lovely folks over at Amazon know how to look after their Ben 10 fans so there are lorry loads of them heading for the warehouse as I type (well, they say there are more on the way anyway).
I'm still resisting being assimilated into the whole Ben 10 frenzy thing! It seems I'm the only one...
I discovered the Teenagers had set the Sky box to record the entire series of anything Ben 10 Alien Force they could find - apparently this isn't for THEM, it's for the youngest to watch...uh uh, like we're going to fall for that one!
My youngest would love this Ben 10 Alien force flip out sofa.
It's inflatable - easily so, according to Amazon - and to start with I thought this would be a right faff, instead of having it made of foam for example.
But now I think about it, this could be better! Rather than having to have it present all the time, with an inflatable sofa you can inflate it when you need it, deflate it and put it away when you don't.
The cotton cover is removeable and can be thrown in the washing machine as and when you need to; this Ben 10 Alien Force flip out sofa should be retailing for £34.99, but it's been reduced to £28.99.
Happy inflating!