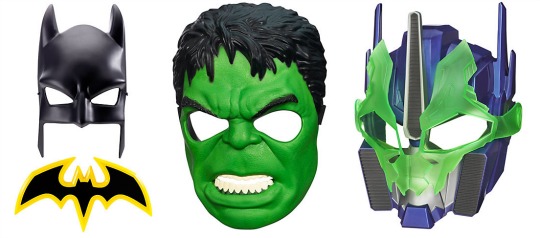 In the John Lewis Clearance I spotted these kids super hero masks at really good prices. The Batman Mask comes with a Batarang as well, and is reduced from £5.60 to £3.92, and there are plenty in stock.
The other two styles of mask do unfortunately come as an assortment, which means that you cannot choose the style you want out of the two on offer. There are two different Transformers Masks down from £9.99 to £5, and Marvel Masks which come as either Hulk or Captain America and these are now £6.99.
It's a shame that you can't specify which mask you want, but they all seem to be good quality masks, and although I know nothing about Transformers, I do know that my Marvel fan would be happy with either Hulk or Captain America. Apparently they are both "cool". And if you like these you have him to thank, as he asked me to look for Marvel instead of Frozen!
All of these are in the Clearance section so stocks may be limited, except Batman which has plenty of stock in at the moment. Home delivery is from £3, or you can collect for free from John Lewis or Waitrose.