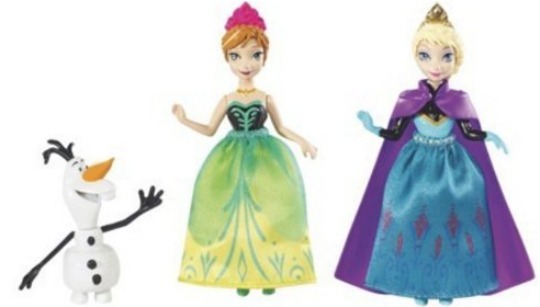 The popularity of Disney's Frozen shocked everyone. We have decided to bring you a compilation of Frozen deals before prices hike and stocks diminish, because of the Christmas rush. Read on to find out what goodies we have for you.
Amazon
Disney Frozen Royal Sisters set*, for only £13.99. This sells for £15 in other popular retailers, and at Christmas every penny counts. Not to mention FREE Super Saver delivery, thrown in too. It contains Anna, Elsa & Olaf characters.
Frozen OST (Original Soundtrack) CD*, only £7. This sells for around £8 in the likes of Asda and I reckon this will be a popular choice this Christmas. Amazon also give you it FREE to download in MP3 format, which is very handy. It has all those classic songs from the animated film.
The Entertainer
Frozen Stamper set*, £3. It was £6 but is included in their up to 50% off Frozen deal. It includes four wooden stampers, one large ink pad and seven felt tips.

Frozen Art Case*, only £5. This was £10 before it was reduced and still sells for £9.99 at other retailers such as Toys R Us. It contains a variety of paints, pens, pencils and accessories. In my opinion, well worth it's £5 price tag!
Collect either or both from your local The Entertainer store or pay £2.95 to have the Frozen Art Case delivered. Use promo code FBVUK to get an extra 5% off of your order.
Character.com
Anna & Elsa Pyjamas*, only £6.95. These pyjamas are for girls and are available in four sizes, from age 12 months through to 4 years. Machine washable, and made from cotton. These have a Anna & Elsa motif on the front.
Frozen Mini Dispatch Bag*, just £6.95. This bag sells for around the £9 mark at the like of Wynsors and others. It's a small shoulder bag and would be suitable for shopping trips or even dress up.
Delivery costs £2.95 plus 50p per additional item.
Argos
Frozen 2015 Annual*, only £3.99. Get it now! This will be popular and will sell out. It's £7.99 elsewhere, so it is a bargain.
10" Elsa Ragdoll*, just £12.99 with FREE delivery. A nice soft doll that can be taken to bed, by a little Frozen fan.
 Frozen Olaf Tea Set*, just £13.99 with FREE delivery. This adorable 18 piece set is worth every penny and would make any child happy. Contains Olaf teapot, cups, plate, lemon slices, spoon and a hat pot topper.

Collect your items from your local store for FREE or pay £3.95 to have it delivered.
Price Right Home
Frozen Single Duvet Cover & Pillowcase set*, only £13.90. Made of 100% polyester microfibre, meaning it is machine washable.
Delivery is FREE! Use FB2014 and get an extra 10% off!
Keep your eyes peeled tomorrow, as we will be telling you where to get the Disney's Frozen bargains from stores near you. Head over to our vouchers section, where you will fine promo codes like the ones mention in this post and much more.