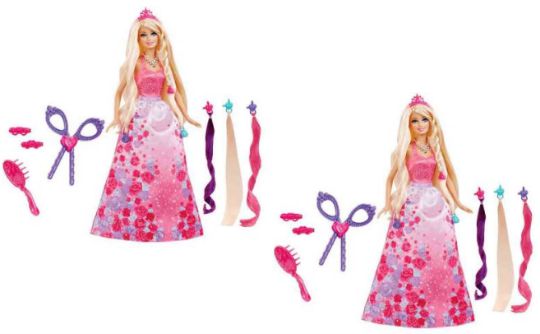 Hands up if you hacked at your Barbie's hair with scissors, as a child. I most certainly did. What if I told you that there's a special Barbie where you can do her hair without mutilating her? You want one, don't you? The Barbie Cut N Style Princess Doll is £26.99 from Toys R Us and £24.99 from Tesco Direct, so to get it for just £11.99 is a cracking deal. Reputable Amazon Seller Net_Price_Direct are the ones selling it for so little. The delivery charge is £1.34, but even when factoring that in, it's the cheapest by far.
With a lot of you doing your Christmas shopping already, we just had to share this Barbie Cut N Style Princess at this incredible price. It's definitely one to tuck away for birthdays and Christmas.
As well as the Barbie Princess Doll, you get four Hair Extentions, one of which is already attached to the Barbie Doll and a pair of Magical Scissors. Your child can cut the doll's hair using the scissors and grow it again. This I would love to see.
If you have a little Barbie fan, then this doll is a must, especially at this great price.