ASDA Olympic Fun Tat Review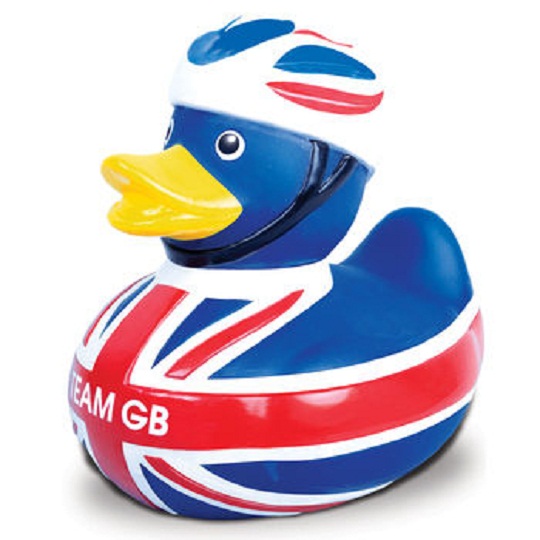 The Olympics have kicked into high gear and we've all been watching, cheering, shouting and staring at the screen as athletes put their all into their chosen sports. I find it utterly exhilarating and it's definitely been an educational and inspirational experience for my kids.
So, when I discovered that I could buy the ASDA Olympic Team GB rubber duck I died a little from happiness. How can your bath live without an Olympic rubber duck? Really? There are two types and I got the red, white and blue one for £5. Now, this is an expensive toy really, it is £5 for a rubber duck. However, it is very cute and has the best Olympic hat on, ever.
The duck gets, from me, 6/10. The plus points include the design, the fact that you get a cool Olympic rubber duck and the overall fun factor. The minus points are that it isn't very well finished with some areas looking a bit tatty and paint not sitting in the lines. I'd get it for an Olympics mad kid as a fun gift.
Then there are the Team GB race cars which you can collect and which cover a range of fab classic British cars and designs. The cars move really smoothly and run straight too, which is a good thing as they have been well made. There are few things as annoying as poorly finished memorabilia. These are a fairly costly £2 – and I say costly because there are many to collect and that will soon add up – but are made from really robust materials and they will last forever.
Other items worth an honourable mention and that I can't find on the site are the official Olympic Wenlock colour-changing pen (mine had glue down the side which was bad, but my daughter loves it) and the official colouring-in kit that gives you pens and papers for Olympic fun.