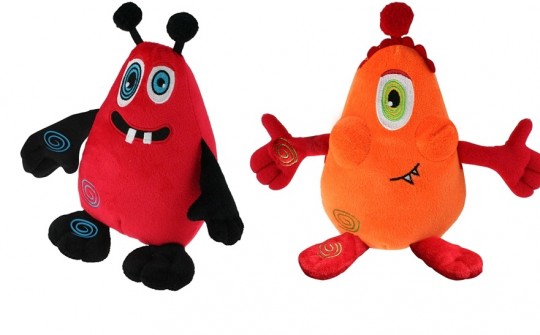 On the lookout for really weird and funny Christmas gifts? I think I may have found them. The Annoying Monsters are a bunch of adorable toys that come in a variety of shapes, sizes and features, cost £20 on average (Play.com have them at a discount) and have a website that offers lots of lovely extras.
The Annoying Monsters have a story, the story is printed on the box and carried through onto the website where kids can paint, enter competitions, read more stories, and watch Annoying Monster videos.
I was impressed with the variety of stuff on offer on the Annoying Monsters website and with the toy itself. A while ago we reviewed a talking meerkat that my kid loves, still loves, and will probably always love. Her Annoying Monster has supplanted her meerkat. Why?
Well, the Annoying Monsters offer you the same feature – press the button, talk, listen to your voice repeated back to you in an annoyingly high voice – as well as plenty of others. Poke their eyes and they scream, press their foot and they giggle and jump around, press their stomach and they burp and fart.
If you leave your Annoying Monster alone it will snore loudly and if you cuddle it, it may fart on you. Hilarious for kids of almost any age. The only issues I had with this toy were basic ones. My daughter, age 5, struggled with the recording function. Unlike the meerkat toy I mentioned earlier, if you press the button mid-record or while it is repeating, the toy will either stop talking or refuse to record, or it will record without warning. It took a couple of tries to help her get her head around the way it worked.
I wouldn't call this a flaw because the toy is really well made, soft and cuddly, very funny and lots of fun. Definitely a big thumbs up as a daft and entertaining Christmas gift.