You can't have missed this strange phenomenon. Actual, playable games based on video games. Jenga have picked up on a wonderful trick, in my opinion, by taking a new spin on their traditional game using Angry Birds.
The game is pretty much the same as what you play on the screen, except you're doing it in real life. My son got a few of the Jenga Angry Birds games, but this one is the best of the lot and definitely the best value for money. The Angry Birds Star Wars Death Star game is £23.49 including delivery at Amazon. Read on to find out more about what this game is really like, and what you get for your cash.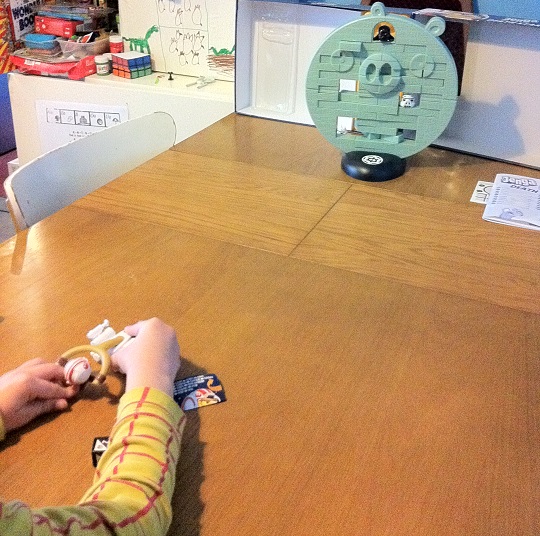 First off, from a parent's perspective the best bit is that it comes in a sturdy box, the type where the top lid lifts off, making it ideal for storage. Neither the Tatooine game or the At-at game had this type of packaging.
The bad piggies are Darth Vader Piggie, and Stormtrooper piggies. The good guys are Solo Bird, Luke Skywalker Bird, and Chewbacca Bird. You roll a dice, and the side facing up tells you which bird you can fire at the Death Star, and how many shots you get. You get points for knocking out the stormtrooper piggies, with the most points for the Darth Vader piggie.
The game is a lot of fun for everyone. The Death Star only takes a few minutes to put together - all the pieces are numbered and you fit them on a board.
Also we found that the box itself makes an excellent catcher for the Angry Birds when placed behind the Death Star!