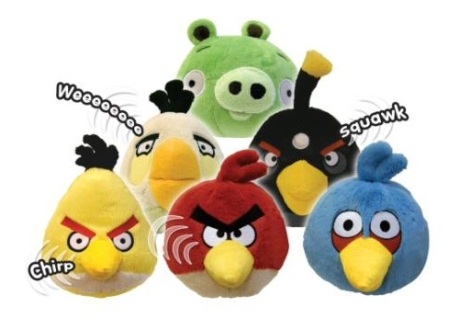 Angry Birds was the game du jour last year with parents and kids wrestling for space on their iPhones, iPads, tablets and other such technological gadgets, in order to play it. In fact, Angry Birds has been such a phenomenon that the plush toys based on the game are very much in demand. I have uncovered several places that are selling the Angry Birds toys and here they are…
Play.com are offering the 4" Angry Birds for £4.99, the 5" Angry Birds with sound for £7.99, and the 8" large Angry Birds for £9.99. These all come with free delivery but the larger items are still on pre-order so you won't get those right away. Also, Play.com says that they cannot guarantee which Angry Bird you'll get which is a bit frustrating really, although they are cheaper than Rovio.
Also, thanks to radiocaf at HUKD, we now know that GAME are selling the red Angry Birds for £4.99 instore at this very moment. They are not showing online so you'll have to stagger to your nearest branch in order to nab one of these. These are about £3 cheaper than those on sale at the official site and, of course, you save on delivery.
These are utterly gorgeous creatures and, if you've played the game, pure genius. I've just nabbed myself the 7" with sound effects because the noises the birds make are just brilliant. Hopefully you can get yourself an Angry Bird that you want – if all else fails you can pay full price at the Rovio site and choose exactly which bird (or pig) you have dreamed of owning.