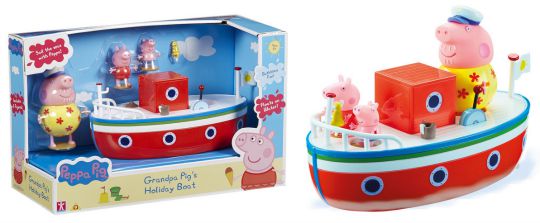 This Peppa Pig Holiday Time Grandpa Pig's Boat toy is a must for any little Peppa fans. It is a boat that can actually be used in the bath or paddling pool. This normally retails around £20 at most other stores, however Amazon are currently selling it for just £9. May be worth putting by for Christmas at this price.
This boat is part of the new Peppa Pig 'Holiday Time' collection and features Peppa and her family on their holiday adventures. This sturdy red boat is designed to actually be used in water, it floats along so your little one's can enjoy their very own sea adventure. Also included in this set are three figures, they are Peppa Pig, George Pig and Grandpa Pig, all complete with their holiday clothes! They can be removed from the boat and they also float.
My daughter has the original Grandpa Pig boat and uses it constantly in the bath, she loves it and I must say it looks no different from when we bought it. It is a sturdy toy, easy to clean and provides plenty of fun. I find it is a great incentive at bath time too! At this price you can't go wrong really.
Delivery is FREE if you spend over £20 or are an Amazon Prime member, otherwise delivery starts from £3.30.