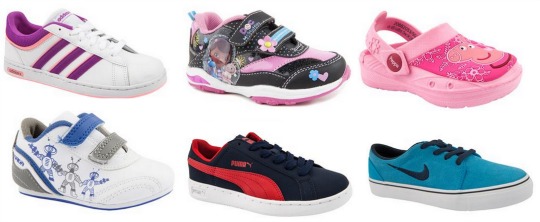 Here's the second of tonight's big summer sales - the Big Brand Super Sale at Brantano Footwear. That name has really hyped it up hasn't it? Looking at the kids shoes there really are some big price cuts though, and those are cuts from Brantano's own original prices which were already some of the cheapest around. Add in the free delivery when you spend £20 and you're on to a winner with this one!
In the girls shoes there are summer beach shoes, clogs and so on from just £3.50 a pair, and then regular shoes and trainers start from £8. As well as big brand names like Start-Rite, Clarks, Adidas, Hush Puppies and more, there are also character shoes including Hello Kitty, Peppa Pig, and Doc McStuffins.
The boys sale has fewer items and there are more trainers than anything, but again there are brands like Clarks, Nike, Puma, and Skechers, as well as character footwear.
It's really worth a look as the prices are so low, and for summer holiday shoes, or trainers to run around in the garden the cheaper styles are great, but to be able to get branded footwear at big discounts is even better!
All the sale items are home delivery only, but you get that free when you spend £20, or it costs £2.99 if you spend less.