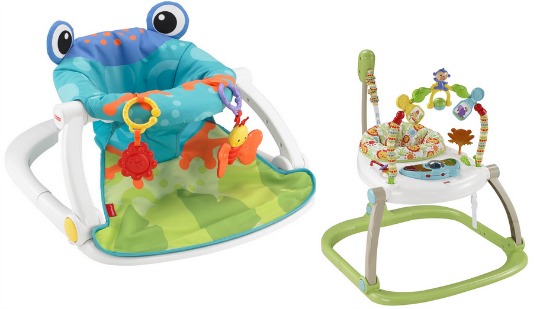 Fisher Price are the brand of choice, when it comes to buying baby toys, for a LOT of us parents. If you have had your eye on a Space Saver Jumperoo, the Sit Me Up Floor Seat or other Fisher Price Toy then you must visit Amazon today. Their Deal of the Day is up to 40% off Fisher Price Toys. Now's the time to pick up that item you have been looking for.
The Fisher Price Space Saver Jumperoo* is now only £48.13, including FREE delivery from Amazon. This is £79.99 at Boots.com and £74.99 at Argos, so if you want one of these grab it NOW!
Another immensely popular piece of baby equipment is the Fisher Price Sit Me Up Seat*. It's only £25.58 with FREE delivery. This sells for £39.99 at Smyths Toys Store and the same price at Mothercare, so this too is an awesome buy.
If you are looking for something smaller to entertain your little baby, then how's about the Fisher Price Shake and Rattle Maracas* for just £4.79? They aren't spectacularly fancy but are really good fun for those little people.