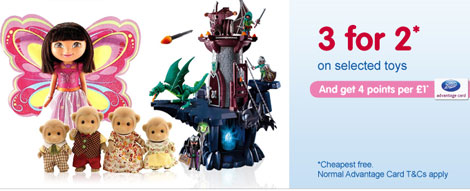 HURRAH! Boots are running a 3 for 2 offer on selected toys until the end of August.
THIS is the time to start getting organised and think about doing Christmas toy shopping early.
I know you think the festive season is a long way away, but it's NOT!  I have various key events happening each month between now and February next year, I've had to work out the weeks in between and we'll be knee-deep in snow again before we know it.
Trust me, it's creeping up fast.
There are lots of toys included in the Boots 3 for 2 toy offer - 306 of them in fact, and if you can't get the majority of your Christmas shopping toys from that lot then there may be no hope for you.
Ok, maybe that's a bit dramatic - a quick trip to Toys R Us to pick up the few remaining bits and pieces at least.
There's Barbie, Chuggington, Early Learning Centre, Disney Princess, Disney Cars, Leapfrog, LEGO, Peppa Pig, Vtech and LOADS of other toy brands and characters for you to choose from.
All the popular things to tend to sell out fast, so I wouldn't dawdle over there if I were you - I'd make a bit of a dash for it.
You can arrange to collect your toy haul from your local Boots for free AND you'll collect Advantage card points on it all too.
Thanks to Andy000 at HUKD