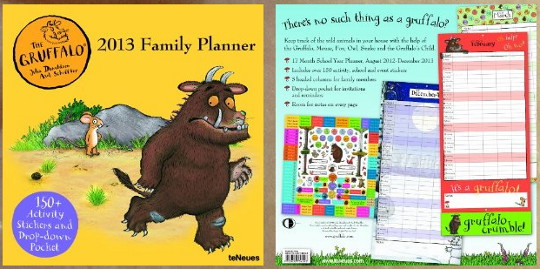 Amazon have a discounted Gruffalo Family Calendar on sale for £6.50  - a £3.50 saving, and free delivery.
Okay, it's insane to even be thinking of 2013 yet, but there you have it. A Family calender for five people, with the Gruffalo as a theme. This calendar actually started in August this year and runs through December 2013. It has really good reviews all round, and everyone thinks it's fun and great and all those other good things you want to hear before you buy something.
The calendar has 5 columns along the top for five family member, and all the reviewers comment about the daily boxes being big enough to write in and still be able to read. There's also a pouch at the bottom which we're told is handy to store loose bits in. There are also stickers for helping to organise repeat activities.
Reviewers say this is "A must have for any busy family to keep track of their activities."
For lovers of the Gruffalo, it's a winner.
Thanks to mrtomtom07 at HUKD