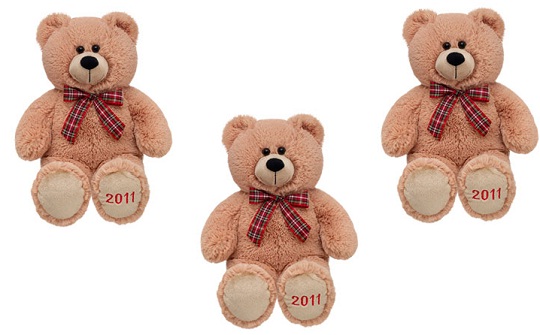 I ummed and ahhed about this one. It is called a Christmas bear, and it does have 2011 on the foot, so it kinda makes the bear a bit out of date already. But there doesn't really seem to be anything about it that looks like Christmas unless you count a tartan ribbon. So if you've a baby born in 2011 you want to give a present to then this is an option. But either way this is a Build A Bear teddy bear! For £3.25 including delivery. And last I looked, babies didn't really care about dates.
This classic teddy with a big red bow is full of wishes for a wonderful winter season. You can personalise this animal with clothes and accessories to make the perfect gift. However, this bear cannot be purchased unstuffed. Also, sounds cannot be placed inside a pre-stuffed item.
There is only limited availability, which isn't surprising given the price and the brand involved. However, that was shortly before the posting time on this deal so if you're here within the next hour or so you should be able to snag yourself a bargain.
Thanks to maxbeth at HUKD!