20% Off The Whole Site @ Bargain Crazy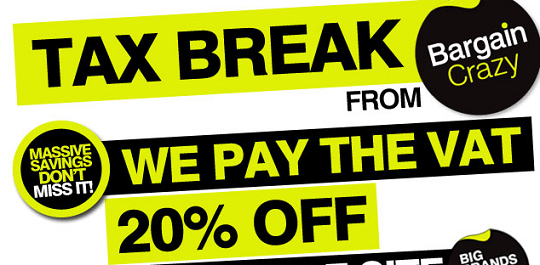 Bargain Crazy is taking 20% off the whole site. They are calling it their tax break deal where they pay the VAT so you get the savings. You can use the voucher code below to get this tasty discount on some pretty epic products so get in there and start saving!
Click here to get discounted with Bargain Crazy*
Discount: 20%
Promotional code: WVAT20
Expires:  24 March 2014
Now I am not sure if this code is going to be valid on sale items too, but they are saying that it is 20% off the whole site so I am sure it is worth a try. You can find everything from fashion to footwear to home living to electrical to toys and games and so much more on the site, and this is the perfect voucher code to get some emergency Easter holiday toys and games to entertain the monsters.
You can find this Bargain Crazy voucher code in our voucher section too.