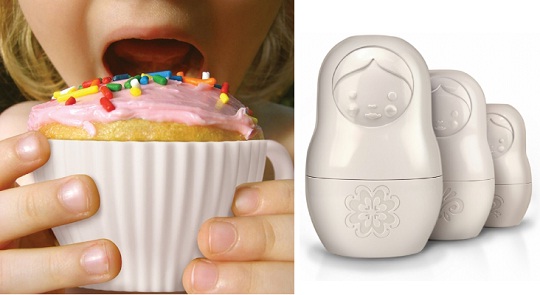 From the photo above you may think this review is about children's toys. Acutally it is about baking. Both items come from online retailer Find Me A Gift. Now, I'm not entirely sure I live in a universe where I wouldn't  choke on my cupcake if I actually was given one of these as a gift by my nearest and dearest. But on the other hand, they're both actually quite unique and potentially useful items.
The M-Cups, or Matryoshkas Made to Measure cups, are measuring cups in the guise of a Russian doll. And in keeping with the 'we do what the name says' theme, the Tea Cupcakes are silicon cupcake holders in the shape of a teacup and saucer.
Gimmicky? Useful? A mix of both? Read on to find out more!
Tea Cupcakes
These Fred Tea Cupcakes (£14.99) are silicon moulds shaped like teacups, complete with a handle, and a saucer. You can bake the cupcake in the holder, and serve it. But not the saucer! That's not oven safe. A genius idea to add a bit of fun to your cupcake servings. And better than using a paper holder that will only get binned afterwards.
The cups are made of food safe silicone, and you get four in the box. The cups can take temperatures of -50F to 446F. Which means you can also use them to freeze the cupcakes until needed. Something I do quite often, so I always have a batch of cupcakes ready to be iced in the freezer. Somehow class parties and school bake sales always happen when you are at your busiest. Each cup measures approx 10 cm x 4.5 cm x 7.5 cm.
I would say that the cupcake holders are a little bigger than the paper ones I normally get, and also a lot deeper. They will take a lot of cake mix to get them looking like the cupcakes in the photo at the top of the review.
Otherwise they work, and look, just fine. Which is my big problem really. A penny under £15 for four novelty cupcake holders? I just don't eat enough cupcakes to justify this personally. I am not sure I know enough people who do, to give a set as a gift. I think this is definitely something I'd want to be given though - I definitely wouldn't buy it for myself at this price. I'd want at least six holders really. Four just doesn't seem enough.
Also, I usually make cupcakes for parties, and very rarely make just four. Plus I wouldn't want to have to spend my time keeping an eye on the holders so I got to take them home again!
Pros: cute cups and saucers, nice and big for decent sized cupcakes, can be frozen as well as used in the oven (cups only)
Cons: seems expensive for four novelty holders
Overall verdict: 5 / 10
M-Cups
The Fred M-Cups, or Matroshkas Made to Measure cups, (£12.99) are definitely a big hit with me. The blurb on the website for once sums these up perfectly.
Quirky kitchen goods don't come much better, or indeed more functional than the Russian Doll Measuring Cups. They measure 1/4, 1/3, 1/2, 2/3, 3/4 and 1 full cup so will cover all cup based measuring your culinary exploits require. The perfect housewarming gift or birthday present for the domestically or cool design inclined they really are a superb product.
They look really sweet, and can sit easily on the small shelf I have above my bench space in the kitchen. As well as looking good they're very practical too. You get six measuring cups in total, each half of a doll that nestles inside another doll.
You can only hand wash these, they're not suitable for using in a dishwasher. The dolls have a glossy finish, so you will need to spend a little time keeping the outside one looking clean if you keep them on display. Greasy fingermarks from baking don't look that great.
But overall I love them, and they would definitely make a sweet little house warming gift.
Pros: practical and stylish
Cons: there's no line to measure to inside the cup so I can only presume that you fill to the lip. Not that practical when measuring a liquid.
Overall verdict: 9 / 10