I'd forgotten about camcorders. And digital cameras for that matter. Ever since I first got my smartphone, I just stopped using them. Why would you need to carry a separate recording device around with you when you have one on your phone, already in your pocket?
Panasonic showed me why. The company sent in the Panasonic HC-V520 full high-definition (HD) camcorder for us to review. Read on to find out more!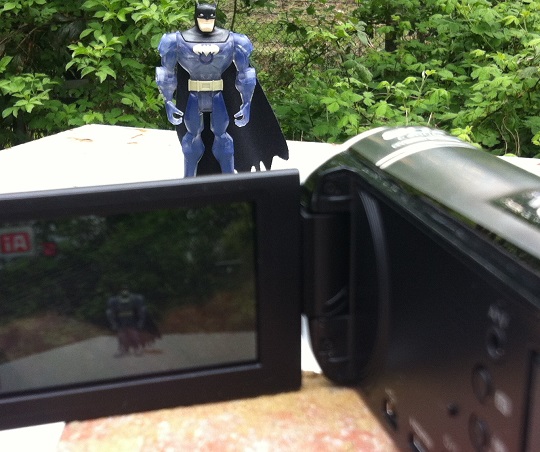 My eight year old son was immediately excited as soon as he saw the box for the Panasonic HC-V520 (£395.99). He announced he was going to make his very own superhero movie! And that's what we've pretty much spent the last two weeks doing. Hence the shot of Batman alongside the camera in the photo above. Spiderman and Green Lantern were also involved.
To really test out how family friendly this camcorder was, I tried using it without referring once to the manual. Well, I admit that failed at the first go. I couldn't find where to plug in the power cord (it's behind a little hatch on the side) but other than that everything was really easy, and straightforward. You can pretty much figure everything out by reading the screen, and just randomly stabbing at buttons!
The camera has a 28mm wide angle lens, which has up to 50x optical zoom. There's also a 2.25-megapixel BSI sensor with 10-megapixel still picture. Yeah I don't really know what that means either.
It does pay to have a look around in the manual though. This camera can do some smart things, like connect to WiFi, and tell you when you've got it at an angle, if you want a level shot. It also helps to smooth things out when you're walking around.
Although the instructions talked about selecting either the smart card or built-in memory to record to, this wasn't an option on my camera so I assume that was meant for other models.
There isn't a memory card included in the box, and I am guessing you need a special sort of SD memory card as the standard, rather old card I have wasn't recognised. I had to borrow one from a friend, who has a rather spiffy, high-end camcorder.
This was a bit annoying to be honest, as I'm not used to using technology like this and it wouldn't occur to me to ask about it. I'd assume it would all be in the box. I could of course have missed something vital - but that's another issue in itself.
I don't want to have to spend ages learning how to use something. I just want to be able to figure out the basics as I go and let the auto controls do the rest. To a certain extent, the HC-V520 does just that.
But the manual is hard for a novice like me to read, being full of jargon. And the buttons on the side have scary labels like iA and OIS. I could figure out most of the WiFi bit but couldn't get it to connect to my home network. So I'm not sure what you're meant to use it for. Looking online I can see that you are able to connect it to your phone, and use an app to remotely control the camcorder. Again, I'm not sure why this is desirable, and in the end it was beyond my abilities.
Panasonic also make a big deal out of it being able to use NFC. Again this stumped me, and it took a while to find out that this is something to do with Android phones. I still don't really know what NFC is, why I would want to use it, or how to use it!
All in the camera wasn't as user friendly as it appeared when I first got it out of the box. Frankly, I would have been happier really if I had never read the manual!
Until then, I was really thrilled with it. The picture quality is amazing. You can use an HDMI connection to display images on a flatscreen TV (if it also has HDMI), and the picture quality was stunning.
THIS is why there are still camcorders around.
It is also tiny, you can fit the camera in the palm of your hand, making it really easy for an 8 year old to operate too.
We got a few days out of the battery too, and that was with near constant use at times.
Pros: amazing picture quality, basic features easy to use
Cons: so much jargon, my head still hurts, and a price tag that's around the same as buying a smart phone, or basic tablet, the latter being a bit more useful for children I think.
Overall verdict: 7 / 10