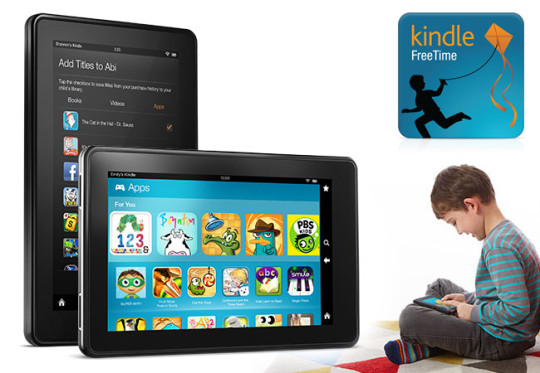 I have a bit of Kindle love going on. I have three of them now, an old Touch, a Kindle Fire and a Kindle Fire HD. My children are really fond of the Kindle too - they will choose to watch Netflix on it rather than CBeebies even. Actually, they are pretty adept at managing the Kindle, so much so that if I don't keep a close eye on them, they're off on their own mission long before I even notice.
I was really excited then, when the Kindle Fire HD came with a built-in app: Kindle Freetime*.
I don't know the technical words for these things, but Kindle Freetime pretty much allows you to create up to four different profiles for the different users, and then to control what they can access and for how long.
For example, if you have downloaded apps onto your Kindle Fire HD, you can choose which of the other profiles can access each app - my oldest daughter can access certain games that are too 'old' for my youngest, so her profile doesn't have those. There are 'baby books' on the youngest's profile that the oldest doesn't need, so she doesn't have them on hers. Then there are games that they both enjoy, so it's on both their profiles, even though I only purchased it once.
I can set time limits on it too - they can play games for half an hour, but can read books for an hour ... I say read, but they are only four and one, so it's more like audio books with pictures.
If they try to leave Kindle Freetime, a password request comes up and they can't.
The only thing it doesn't do for us is limit what they can and can't access on Netflix, but that's not Kindle's fault.
While I'm not crazy about screen time for little people, there are times that having Kindles for them comes in so very handy - like on long trips, sitting in restaurants waiting for food, and on sick days where we don't want to venture out of bed if we don't have to.
We all know excess screen time is bad for children, especially under 2, but moderation is the key, and a great thing about Kindle Freetime is that it keeps an eye on how long they've spent watching and playing, so if I get absorbed or busy or otherwise distracted, we're able to stick to those limits, which I think is great.