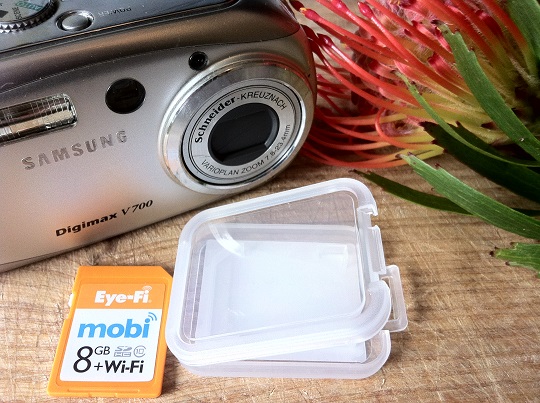 What exactly do you use your photos for? Do you print them? Post them online? Email them? A mix of all three?
That's the problem with using a camera on its own these days. I want to do all of that with my images. Most importantly, as my family live mostly in other countries, I want to upload them to social media. I have private accounts set up for that purpose, just for sharing with family and close friends.
Which means I don't often use my camera. Because I have a perfectly adequate camera in my pocket, attached to my phone, and I can upload immediately.  No need to hook up the camera to my PC, or pop the SD card into the card reader.
So I was intrigued by the Eye-Fi 8GB + WiFi mobi SD card we received for review. With this in your camera, and the right app on your phone, you can quickly connect the two using WiFi. Did it work?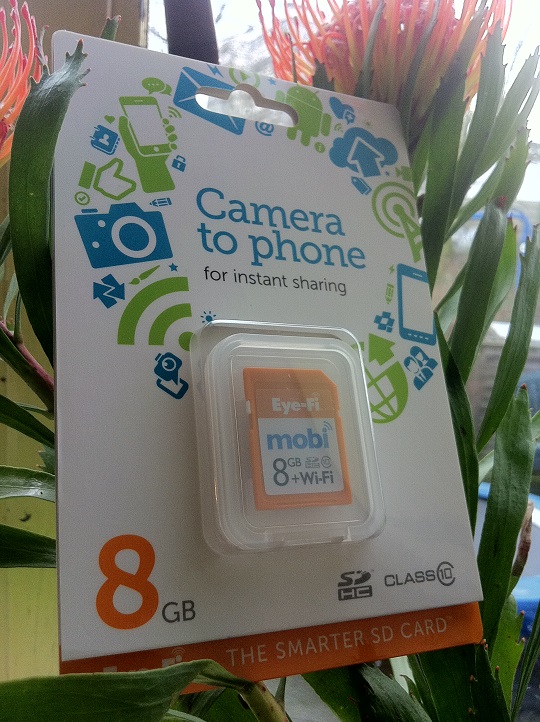 The Eye-Fi 8GB +WiFi mobi SD card can be bought from Amazon* for £32.95. There are also 16GB and 32GB versions available.
Taking a look around I was a bit worried as it seemed like lots of people had trouble setting the card up. There's no instruction booklet with it. Just an instruction to download the app for your Android phone or iPhone and then enter the number on the back of the card's case.
This card will work with iOS 5.1 or later, and Android 2.3 or later and requires a compatible SDHC digital camera. I actually took the photos above using my Panasonic camera, sorry if it seems a bit misleading to have my old, trusty Samsung compact in there. The lovely flowers in the photos were a gift on Valentine's day from my husband.
I personally didn't have any trouble using the card and setting it up. My camera was new just at the end of last year, and my iPhone is older but running a compatible OS. If you want to see if the card is compatible with your camera, go to the Eye-Fi web page, scroll to the bottom, and enter the camera's make and model.
Once paired, the card transfers photos & videos whenever new content is detected by your device. And, once the transfer completes, the card disconnects its WiFi to save your battery.
My camera takes excellent macro shots, and is great for low light situations too. I did find that I was taking it out and using it more than I had before, simply because I could quickly transfer the photos. What I would like now is a similar app for my laptop.
I would have to weigh up the convenience of the Eye-Fi Mobi with the cost. And I do have to admit that honestly, I wouldn't buy this for myself. When you are rushing about with small children, you're lucky to be even able to get the phone out to snap a shot, let along take an extra camera about with you (on top of everything else). And for the special occasions that I do use the camera, I am happy to transfer the old fashioned way, by taking the card out and popping it in the slot on my laptop.
However, that's just how I roll. It might be different for you and if you are thinking that this looks handy and you would make use of the card, then I would heartily recommend getting one. I personally had no trouble setting the card up, and I am useless at that sort of thing normally, and it was really nifty to be able to transfer images straight away.
Pros: works well, allows fast transfers, works with most file types
Cons: expensive storage card if you don't actually use the WiFi connectivity
Overall verdict: 9 / 10