FREE Baby Wipes....Were You Lucky?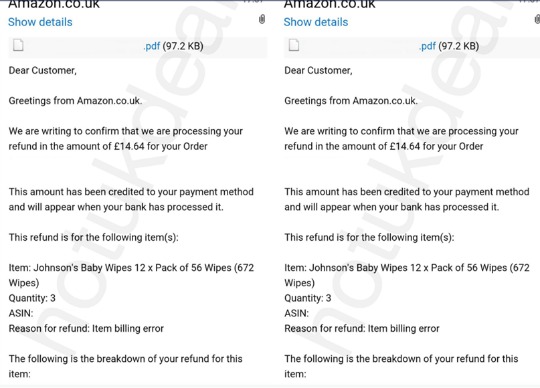 Last week, the lovely Lisa told us how to get a box of 12 packs of Johnson's Baby Wipes for £4.88  here. Check your emails and see if you were lucky enough to get a refund too. Look at the email we were passed to show that Amazon had refunded a customer even though they received their wipes. Fingers crossed there will be quite a few of you that get both your baby wipes order and a full refund.
Johnson's Baby Wipes are very popular amongst us parents so I am going to assume a fair few of you snapped up this tremendous offer that got you 12 packet of Baby Wipes for only £4.88. If this "glitch" can happen to one of you then I reckon it can happen to a few.
Let us know if you have been one of the lucky ones to get FREE Johnson's Baby Wipes from Amazon.
If you are in need of some Johnson's Baby Wipes yourself then they are still at a great price at £4.88 on Amazon, here*.  Remember to use promo code SAVE30VC4  if you opt for Subscribe and Save to save yourself 30%.
Thanks to HUKD