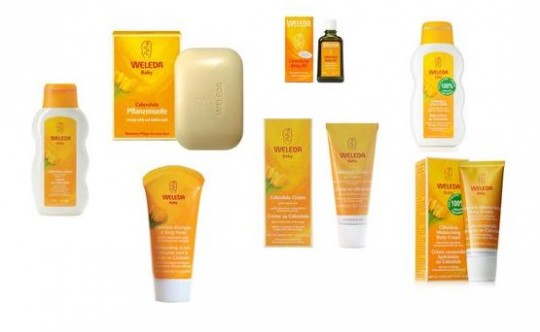 There's a fab range of Weleda Calendula products on sale at Husha-Byebaby.
If you've never used Weleda products, you've been missing out. Apart from being great for your body as they don't contain crazy unpronounceable chemicals, they also smell wonderful and fresh. Calendula is possibly my favourite herb as it is wonderful for baby skin – my daughter used to have horrible nappy rash and the Weleda Calendula Nappy Change Cream (£5.56) actually healed bleeding rashes overnight.
Other baby products are the Weleda Calendula Baby Oil ((£6.80) , which unlike other popular brands isn't made from crude oil and as such are better for baby's gentle skin.
With winter around the corner, I'm liking the look of the Weather Cream (£5.56) which is made with beeswax and lanolin and is meant to care for dry skin and protect lips.
For more run of the mill items there are Shampoo and Wash (£5.56), Lotion (£4.97) and Facial Cream (£5.56) – all with just over a £1 off.
As I've said, if you haven't tried Weleda's Calendula products, do yourself a favour – I think they're great!