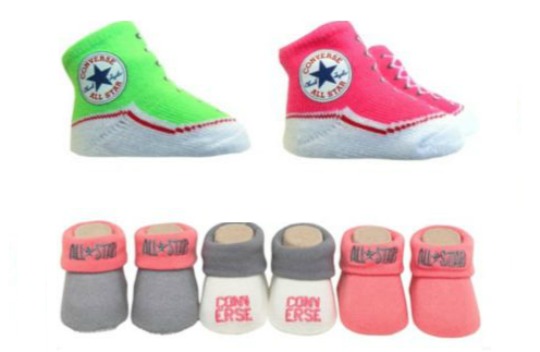 If you are looking for a baby gift for fashion conscious parents, or you are due a baby bundle yourself, then have a look at these Converse baby Booties from Argos. They were £9.99 for each set, but are now down to £5.99, which is a good price for baby booties without any branding, so to get converse ones for this price is great.
There are only girl's sets available, unless you don't mind popping your baby boy in pink. There's a set of 2 baseball boot style Pink and Green All Stars, and a set of 3 Pink and Grey Booties. Both come gift boxed ready to give as a present.
The Green and Pink baseball boot style has much better stock levels in stores, and can also be ordered for home delivery. The Grey and Pink set stock levels are a lot more hit and miss, but there are some around so you might get lucky.
These are only in a baby 'one size' and are described as a newborn gift, so it's not something they will be wearing for long, but there wil be loads of new parents who would love some of these for the baby.