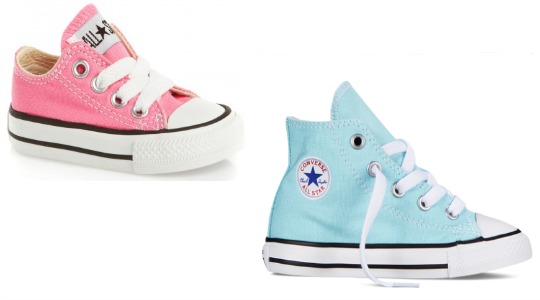 Ever heard of Poppy & Zach? They are a Children's "Lifestyle" online store that sell popular fashionable brands. Just now they have a whopping 25% off those ever popular Converse Shoes. They offer FREE delivery too just to sweeten the deal. It's not even all the old styles they can't sell either - they have new lines included too. There are ones for baby right through to teen.
Converse all look pretty much the same to me. Of course they vary in colour and they do special edition ones but they tend to be quite plain looking and samey. That's why I am absolutely sold on these Converse All Star Party Starflower Pink Infant Hi-Tops*. They are so edgy and quite 80's. Get them for only £23.96 delivered instead of £31.95.
If you do prefer the classic styles then there's a great choice reduced at Poppy & Zach. These Converse All Star Ox in Pink*are now only £17.81, or get them in Black* for the same price.
Hi-Tops are still the footwear of choice with a lot of older kids. Check out these: Converse All Star Poolside* for £19.46 delivered or Converse All Star Infant*now £19.13 delivered.