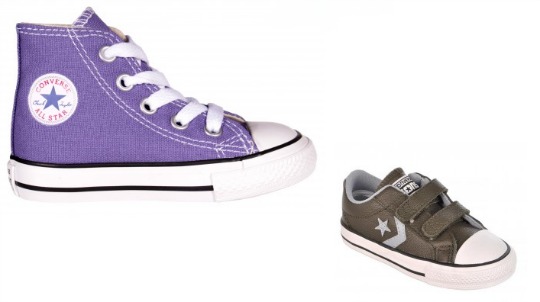 Converse are cool but I like them because they are comfortable for little feet. The kids can go outside and kick ball or climb on things they shouldn't be and they will still be fine. Even if they beat them up it just goes with their casual image. Get 20% off Converse just now at online retailer Poppy & Zach. They don't come cheap so if you can get 20% off then that's a great deal!
If the kids are needing something for the summer (if we get one of course) then head on over to Poppy & Zach were the Converse Shoes start at £17.81.
Little baby can even be cool with a pair: Converse First Star Navy* was £23.75 now £17.81 and Converse First Star Periwinkle*was £24.75 now £18.71.
The older ones can have a better choice but I like these: Converse All Star Infant OX White* was £23.75 now £19, Converse All Star Infant OX Pink* was £23.75 now £19 and Converse All Star Infant Hi Tops* was £25,95 now £19.46.
Poppy & Zach offer FREE delivery when you spend £30 or more or £2.95 if your order is under.