Tommee Tippee Cold Water Steriliser Review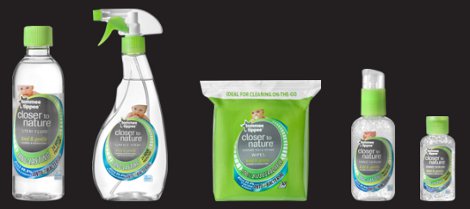 Okay, I'll confess that I'm just not a super-clean-neat-freak kind of mum. I bought a travel sized hand sanitizer for the nappy bag before I had my baby, and now, 19 months later, it's still there, looking a little worse for wear and with only about 2ml gone off the top.
But, since we travel a lot we decided to pop the bottle of Tommee Tippee Steri-Fluid we were given into our travel case, in case we ever need it, and last week it came in handy. To my horror, I discovered that the sippy cup my daughter uses only in the car had become rather slimy on the bit that slows the flow – the bit we don't really get to see when we're filling it up. Being on the road we didn't have hot water and soap, so I pulled out the Steri-Fluid, mixed it with some water and dropped the parts of the sippy cup into the mixture, where I left it for about an hour.
After the hour, I rinsed everything off, filled up the cup again and had some water through it myself as I was afraid that there would be a chemical residue in the taste, but there wasn't at all, which both surprised and pleased me.
Apparently the Steri-Fluid is proven to kill MRSA, E.coli, Listeria, Salmonella, Campylobacter, Staphylococcus and Candida albicans – and I don't know what the slimy stuff in the sippy cup was, but it removed that too.
The Steri-Fluid is alcohol and bleach free and is intended as a cold water sterilisation of bottles, teats, soothers, small toys and weaning equipment. Oh, and teethers. I did use it on a teether too, that same week, after I found it neatly lodged in a cow pat. Nice.
There are a few more items in this new range from Tommee Tippee, including a surface spray, hand serum and a travel sized hand serum. There are also wipes which aren't intended for use on your baby, but can be pretty handy if you are a bit more germ conscious than I am – although I have used them to clean high chairs in restaurants, and also a particularly gross looking toilet seat at an Easter weekend fair, with the added bonus that they are 100% biodegradable.
The Tommee Tippee Closer To Nature cleaning range is useful, rather convenient and great for travel, certainly, but the list of unpronounceable chemicals worries me somewhat. However, if you have a child that's prone to illness or has a lowered immune system, they are certainly better than sterilisers that contain bleach or alcohol.
Tommee Tippee's cleaning range is available from Tesco, Toys R Us and Asda.