Skribbies - Shoes Kids Can Draw On

I don't know about other people's children, but mine will draw on whatever's in reach when they have a marker in their hands. It annoys me no end. It's nice then, to be able to hand my four year old a pair of shoes and a handful of markers and say "go! draw!" without stressing that she should or shouldn't be doing ruining especially a new pair of shoes! What are these shoes, you ask? Well, they are Skribbies High Top Sneakers.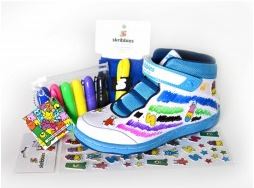 Skribbies are standard sneakers, no different to others, except allowing for total free reign on style and pattern.
They come as white high top trainers, with pink, blue or yellow and black trim. The white is where the magic lies though - it's made from some kind of plastic - slash- whiteboard material, and using the six pens that come with it you can draw and colour to your hearts content. The shoes also come with a pad of stickers that  your child can use to further personalise their shoes, or whatever else takes their fancy. My two year old stuck them all over her legs. Her sister wasn't amused.
In the pack you also receive a wristband - I wasn't sure what 90's throwback that was, initially, but actually it too serves a purpose: for removing the arty should you wish to start again.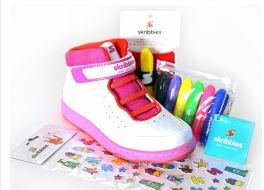 When you draw on the shoes you can immediately use the wrist band to rub the ink off, or if the ink has dried and been on for a while, you may need to use a damp cloth to give it a clean. The good thing is that once the ink has dried, it doesn't even come off easily in the rain, so your master piece should remain in tact - or at least enough to require no more than a few touch-ups from time to time.
Comfort-wise the shoes are good too. We prefer Valcro or buckle shoes to lace up, so while these have laces, they aren't actually untied, so little ones can slip into them by themselves, and just Valcro the top shut. My daughter had some blisters on her heals after the first day, but that's normal for any pair of shoes, she soon broke them in and loves them now.
A quick search of kid high top trainers brings a variety of options from around £14 to almost £50, so the Skribbies coming in at £39.99 does place them near the top end of of the price range for children's shoes, so that's a consideration when you are buying on a budget. That said, they're a novelty, and as a novelty item, I don't suppose they're massively over priced.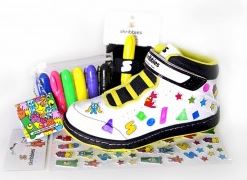 What I do know is that when you have one child that has a pair, you will have another that desperately wants one too. The kids definitely love them and think they are wonderful.
I would say you need to keep an eye on them though - my four year old tattood her leg with the pens, and my two year old coloured the inside of their play tent. The ink did come off my oldest's skin quite easily with a little attention from a wet wipe, but the tent wasn't as lucky.
Where Can You Buy Them? 
You can buy Skribbies from the Skribbies Website for £39.99
The Good
Skribbies are a brilliant idea, and the kids love them
Since I'm giving my child a blank canvas to decorate, she doesn't seem to have as much of a need to colour everything else - except her legs, to match her shoes, apparently.
It's rare that I find an item that keeps both my children entertained without interruption for over an hour. These did that. I was quite surprised, as I innitially thought a quick scribble and they'd be done, but no - it kept them going for ages. Brilliant.
They come with the pens and stickers and wrist band included, so there are no extras to buy.
The Bad
Skribbies are definitely not cheap, and you're unlikely to buy one in every colour for each child. That's okay.
The Verdict
What's to say that's not been said. I wouldn't want a pair for myself, but I'm not the target market. The children love, love, love them, love being able to draw and colour on them, and I think my daughter loves the comments she gets in them too, since people always assume she's been drawing on her shoes when she shouldn't have been, or compliment her on her creativity. They're definitely fun.