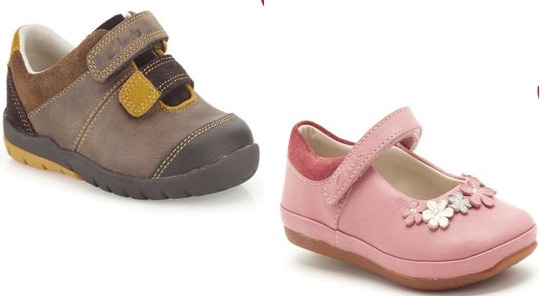 We know Clarks have had a sale on for a wee while now, but we are wanting to see some real bargains now. Selected styles have a whopping 65% off, making them around £10 a pair and you'd be forgiven for thinking that will be the dregs that they can't sell. Not true! Look at the picture above and they are your classic Clarks style of shoe and those are both included in the 65% off!
Clarks are a favourite of many of us parents, and it's easy to see why. Most styles are inbetween smart and casual, so are a good all-round shoe. They fit well and tend to last longer than other brands. What we don't like is the price, so when we see them for around the ten pound mark, we just snap them up!
The Softly Seb Shoes*are just lovely and look to me like many pairs of shoes that you find in Clarks. They are brown, which is a nice versatile colour and isn't as formal as black. These were £32 and are now only £10.
For the girls', the Elza Lily Shoes* are my favourite. With a saving of £20, these shoes are a great bargain at just £10.
Delivery is FREE to your home, and click and collect is not an option on these sale items.