Selected Footwear Two For £8 With FREE Delivery @ Shoe Zone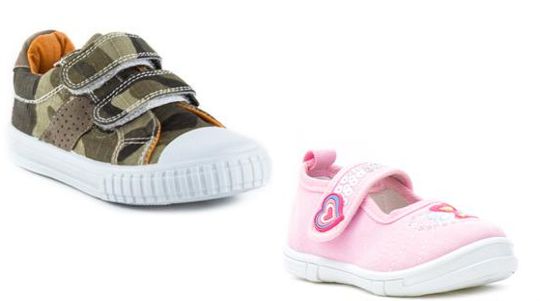 Buying shoes for the children can be so expensive. Sometimes they will need a new pair when you just don't have the money. That's when places like Shoe Zone are great. Where else could you get two pairs of shoes for £8? If it's just play shoes or something for nursery then you might not want to spend a fortune. I certainly don't. Shoe Zone also offer FREE delivery on ALL orders.
It's not all kids shoes in the two for £8 offer at Shoe Zone. You could get yourself some slippers or some Crocs lookalikes.
These Boys Camouflage Canvas Shoes with Velcro Fittings* seem like a super buy even when buying them on there own (£4.99 delivered). They have a 4.5 star rating which is very promising indeed.
Why not get the whole family some slippers for the cold winter? Check out these ones that are all included in this great offer: Boys Earthworks Grey and Yellow Velcro Slipper*, Girls Glittery Owl Velcro Slippers*, Women's Cream Sequin Fluffy Slippers* and Men's Black Checked Velcro Slipper*.
There are many more to included, so it's worth heading over to Show Zone for a look.