Back To School Watch Deals @ Amazon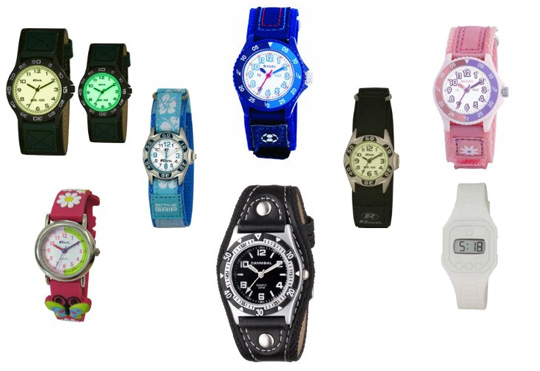 If you're looking for a watch for a young one to go back to school with, then pop over to Amazon and have a look through their Back to School watch offers - there are some decent plain ones (if your school rules dictate that) for not bad prices.
My mum used to despair with me and watches when I was little - I used to lose them, often.  I used to swim a lot you see, so as soon as there was a waterproof analogue watch I liked, that wasn't stupidly expensive, it was bought for me and my watch losing days were over.
I've never been a fan of digital watches, they just seemed like cheating and for those who couldn't tell the time properly, but there are some really nice looking ones with funky green backlighting up for grabs in the Back to School list of watch deals.
There are pretty girly ones, plain girly ones, typical 'boy' watches, character watches and even silicone anti-allergy watches (I've never heard of those before!) - in short, almost any sort of watch for any purpose (not just Back to School) and any taste.
Prices start at around £3.40 (that's for the anti-allergy waterproof ones!) and go up to just over £20.
Happy time telling!