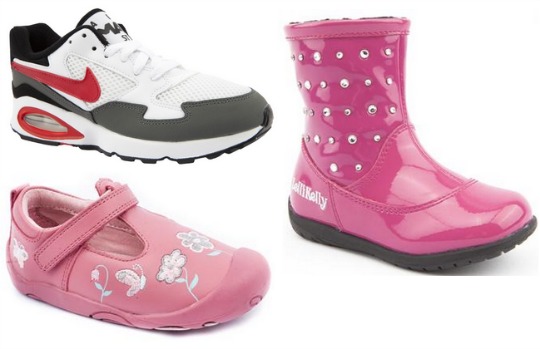 Jones Bootmaker have kindly reduced their sale stock even more! Yippee! We know that they have some amazing bargains in their sale but the savings are even greater now. Plus use the Jones Bootmaker Promo Code NEWYEAR at the checkout and get another 20% off. What next? Are they gonna be paying us to take them away? We can wish!
With brands like Lelli Kelly and Start-rite you can be confident that the bargains in the Jones Bootmaker sale are genuine. As you can imagine sizes are limited across the sale stock, but all true gems take some searching to find.
If you have a VERY fashion conscious child then you may be forced, bribed or bullyed into buying them such trainers as Nike Air Max Trainers. Worry not though as you won't have to fork out the full £45 for them, but just £23.20!
The Start-rite Darcy Bow Shoes are ever so girly and a lovely first shoe. These come in a choice of two fittings, F and G. Yours in the sale for only £12.80.
Remember and use the promo code to get these ultra low prices! Delivery costs £2.99 and you apparently you cannot use the code and collect from store.