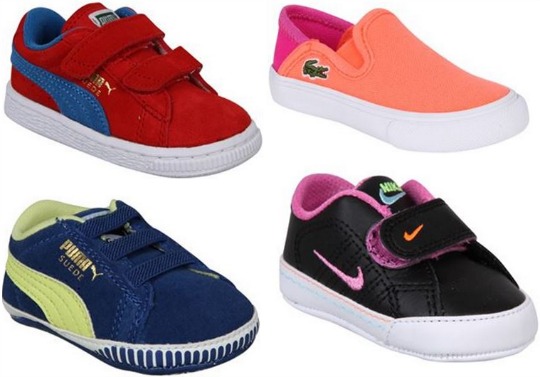 USC are renowned for their designer wear. They are now owned by Sports Direct so you do see a lot of their home brands too like Firetrap. If you like to put designer trainers and shoes on your baby or infant then you will be happy, because their shoe sale is fantastic with lots of marvellous reductions. I am fighting myself not to go nuts buying many pairs for my baby. Footwear starts at just £3 which is fantastic.
Let me tell you first about the baby shoe bargains I have found, not only are they adorable but they are also dirt cheap. These Nike Court Crib Shoes* are now only £10, reduced from £20 as are the Nike First Court Crib Shoes*.
These Puma Crib Shoes* are my favourite and they are now only £10. they are available in purple/pink or blue/yellow.
For older kids, these Lacoste Bellevue Slip On* are from £14 for the orange/purple ones. These Vans Kress Shoes*are from only £11 a pair and are very cool indeed!
To save £3.99 in postage charges, why not collect your shoe order for FREE from USC.