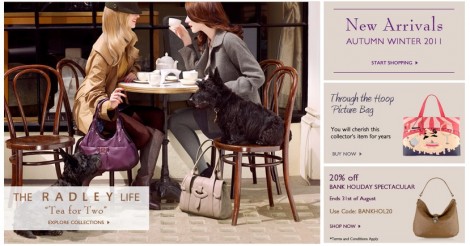 Fancy a new handbag? OK so I am a bit nuts about a new bag. There's just something so nice and comforting knowing that you have the perfect bag with you. I guess the real question is, can I afford a new handbag? Or can I justify buying one? Actually right now the answer is yes. And if the same applies to you, use this Radley promotional code to get 20% off their range of handbags. You will have to be a bit quick about it though, the code finishes tomorrow.
Click here to use your Radley promotional code
Discount: 20%
Promotional code: BANKHOL20
Expires: 31st August 2011
To use this code, go to the Shopping Basket page and enter it in the Promotional Code box. It will be applied automatically to your order.
One thing that I discovered about this site is that the prices don't include VAT. I tested the code out on a really lovely Circus Dog Tote Bag, which has a design re-worked from the V&A archive. This was priced at £18 (pre-VAT) and the code took that down to £14.40. Standard delivery on this site does cost £5, which I think is pricey compared to other sites.
Thanks to rose_cat_jr at HUKD!